About Frank & Dave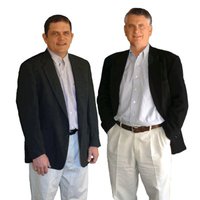 Frank Rolfe and Dave Reynolds have been immersed in unusual – highly profitable – real estate niches for over 30 years. Together, they are the 32nd largest owner of mobile home parks in the U.S., with over 5,000 lots and almost $100,000,000 in mobile home parks. Frank Rolfe was also at one time the largest private owner of billboards in Dallas/Ft. Worth. Dave Reynolds has done some very large, well-known RV lot conversion projects. And they have both owned RV parks and self-storage facilities throughout the U.S.
At the same time, they have both taught on the college level as a hobby: Frank as a public speaking instructor at Southern Methodist University in Dallas, and Dave as an accounting instructor at Colorado State University. So they merged their love of teaching with their knowledge of unusual real estate niches. And the Niche Investment Network was born. Today, more people learn about mobile home parks, billboards, RV parks and self-storage investing from Frank & Dave than any other group.
Testimonials To Frank & Dave
Dave and Frank -

Thanks to your teachings, my wife and I just finished purchasing our first mobile home park and wanted to send along a "thanks" to both of you. When we initially considered getting involved in the mobile home park business, we noticed there were multiple sites offering books, manuals and "bootcamps", etc. After more closely comparing the available options, your credentials and deep knowledge of the industry won us over. We subsequently purchased (and read!) all of your materials and attended one of your bootcamps. We can honestly say that without your guidance and teachings, we either would have purchased a park in completely the wrong way (as we feel most other "gurus" appear to teach) or we would have been floundering with the "next steps". Although we had the natural questions of "are we wasting our money" when we first ordered your materials, within the first few chapters, we realized that we had found the right source for information. Your books and CDs did a great job of getting us up to speed regarding MHP investing, and attending the bootcamp was critical for getting us past our final concerns and questions. By the end of the bootcamp, we felt like we had much more clarity on what kinds of parks make money, how to analyze the numbers relating to a park, how to best negotiate with sellers and the key risks to be aware of. We also felt like we had the knowledge to operate the park after closing with the forms, leases, rules, etc. you provided as part of the bootcamp. My wife and I are very analytical and detail oriented by nature and your materials are written with phenomenal clarity and depth. The 10+ years of expertise and experience you both have in the industry clearly shows. After thoroughly reading your manuals and listening to your CDs and attending your bootcamp, we had few questions left about how to proceed and be successful in the business. Additionally, as we started finding parks that interested us, we followed your due diligence manual thoroughly. Again, this guided us through each step of the way, and the logic to each step was clearly explained. As we have continued to review what other websites and their associated "guru's" are peddling, we are 100% confident in your teachings, and we feel fortunate that we started our MHP investing career AFTER you decided to start teaching. Thanks again for all of your help, Steve T.
Thanks Dave,
I have read the first 10 pages and am already very pleased at the content and what I've learned. The 10/20 rule is a great idea and I can see very clearly how this made you money. The profits are actually made in the due diligence. As Robert Kiyosaki also said in his "Rich Dad" series, your profits are made when you buy, not when you sell. Nice work! Thanks again and God bless.
Andrew
Thanks Dave your 10 20 principle is awesome

Jeremiah
Far exceeded my expectations! Thank you for a great package and fast delivery!

G. North
Many useful experiences to draw from. I recommended to everyone

Jass
Dave,

Fantastic educational material! At least I never bought anything with well water!

Rick
Excellent info. Everybody interested in mobile home parks should get this!!!

Matt
Hi Dave,

I recently purchased your and Frank's "MHP College" CD set and want to thank you for such a terrific package. I'll be purchasing my first MHP.

Best regards,
Mark
Hi Dave,

Thanks for the 3 sets of CD's. Now I can listen to you Masters while chauffeuring the kids around. As I am learning, I am continued to be amazed how much experience and knowledge you two have. Thank you for the stories. And please help me to say "thank you" to Frank Rolfe too.

Thanks, Stella
Dave,

Just a quick note to say, thank you and that you have already saved my sanity, and many sleepless nights of worry. Your experience and expert advice has made a real difference in how I handle things in my trailer park. Thanks Again!!! I look forward to the next session!

Deanna
Frank and Dave,

Just wanted to let you know that, I really appreciate MHPCollege. I have been in the Mobile Home Park industry for several years now and thought I would have known all there is to know about it. However, I quickly realized that I was wrong. If this course had been available back when I started out, I could have saved thousands of dollars and made a million or more. I owe all of my future success in the Mobile Home Park Industry to you both!

Sincerely,
R. Stephens